A recent Houzz survey showed that Millennials and Baby Boomers lean toward different styles for their kitchens. Millennial homeowners are more likely to opt for Modern or Farmhouse while Traditional style is nearly twice as popular with Boomers. Contemporary has passed Transitional as the top kitchen style.
So what is Transitional style and how is it different from Contemporary? And what is the difference between Traditional and Farmhouse style?
Here's a quick overview of the main design styles:
Traditional: Traditional design harkens from classic European interiors. Think wing-backed chairs, claw footed tables, deep wood tones and curved lines. A typical room arrangement includes a symmetrical balance of furniture pairs around a focal point, such as two sofas flanking a fireplace. Antiques or replicas of old pieces are often incorporated.
Modern: Modern style refers to the sleek, pared down architectural and interior design that emerged between the 1920s and 1950s. Ornate carvings and dark woods were replaced with a "less is more" aesthetic that celebrated clean lines, simplicity, chrome, stainless steel and molded plastics in furnishings.
Contemporary: Contemporary style is often confused with modern, but it is actually a medley of styles that originated in the latter half of the 20th century. Furnishings feature softer, more rounded lines than the hard-edged pieces typical of modern design, but it still celebrates uncluttered space and airiness.
Transitional: If you combine the textures and comfort of traditional style with the clean lines and airiness of contemporary, you get transitional. Transitional style blends elements to create a cohesive look that is lighter and less heavy than traditional, but cozier than contemporary.
Cottage: Cottage style exudes comfort with a healthy dose of nostalgia. Flea market finds, repurposed objects, beadboard walls, simple artwork, and lots of baskets all celebrate a simpler time. Cottage style is all about unpretentious comfort and hominess.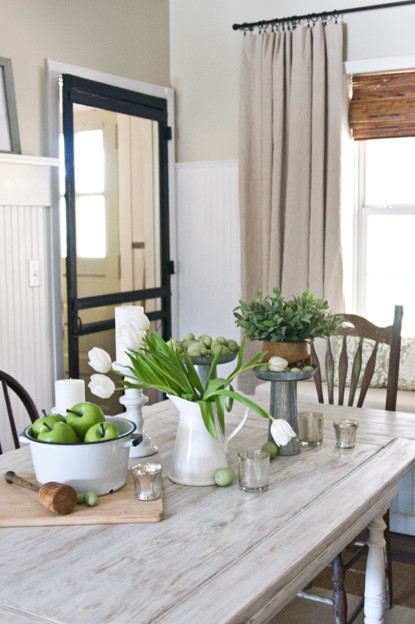 Farmhouse: Like Cottage style, Farmhouse style creates the ambiance of a simpler time, but it is more solid, less frilly than its Cottage cousin. Farmhouse style creates an idealized vision of the authentic, down-to-earth comfort of a solidly built, American farmhouse. Think rough-hewn beams, covered porches, hefty sinks, sliding barn doors, light colors and solid, simple, comfortable furnishings.
We love creating wonderful homes in any style. Some of our favorite projects involved transforming a traditional floorplan into open, airy contemporary or transitional spaces. To find out more, please give us a call or use our contact form.