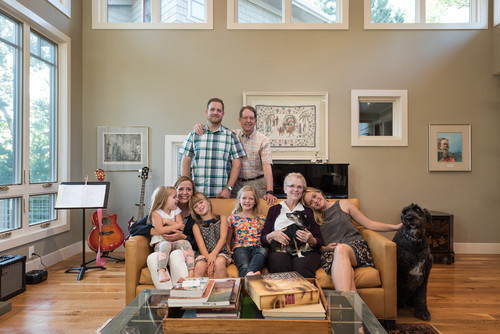 In 2012, Paul wrote a guest post for Boston.com's Boston Real Estate Now blog. The post was on renovating homes for multi-generational living as a tough job market encouraged many adult children to move back home. You can read the post here: Catch the Multi-Generational Housing Wave.
Fast forward three years later, and multi-generational housing is still generating a lot of buzz.
According to the 2015 National Association of Realtors (NAR) Home Buyer and Seller Generational Trends Report:
"Thirteen percent of all buyers purchased a multi-generational home, one in which the home consists of adult children over the age of 18, and/or grandparents residing in the home. This is most prevalent among Younger Boomers aged 50 to 59 at 21 percent. The most common reason for this living arrangement among Younger Boomers was children over 18 moving back into the house (37percent), followed by health/caretaking of aging parents (21percent)."
The report went on to say that cost savings were behind 24 percent of the decisions to make a multi-generational home purchase. In a high-priced real estate market such as Boston, multi-generational living has particular appeal as a cost-savings measure.
As Paul pointed out in his 2012 blog post, homes that are best suited for multi-generational living offer:
Privacy with Proximity
Successful multi-generational living requires a fine balance between private and communal spaces. Separate entrances, morning bars or kitchenettes in bedroom suites, and sitting rooms provide much-needed privacy. A large, open kitchen/eating/living area is ideal when the family comes together.
Flexible Spaces
Flexible spaces can be easily transformed to function for different purposes and ages. For example, an underused living room and sunroom may transition into a home office, then an in-law suite, then a space for an adult child who moves home, then an entertainment area.
Universal Design
Universal design works hand-in-hand with flexible spaces to create environments that are usable by all people. Hallways that are wide enough to accommodate a wheel chair and zero entry thresholds are classic examples of universal design features.
Of course, the big question once you have crafted (or bought) the perfect home, is how multi-generational living will work. We were delighted that Houzz recently devoted an article on the topic. We've shared the article as a slide show below. Just click any of the images to read the full article on Houzz.
If you are considering remodeling a Boston area home for multi-generational living, please give us a call at 617-666-4460 or contact us by using our online form. We'd love to share our insights to help you create a home that works well for various lifestyles!