If you have visited our Houzz profile recently, you may have noticed a new badge that you see on the left.
We received this badge because Paul Morse participated in the Q3 2016 Houzz Renovation Barometer, which tracks confidence in the home renovation market among industry professionals. Paul was part of a national U.S. panel of architects, interior designers, general contractors/remodelers, design-build firms, and building/renovation and landscape/outdoor specialties.
The Q3 2016 Barometer reflected widespread quarter-over-quarter confidence among renovation professionals. Demand for renovation services remains strong, posing a bit of a challenge for remodelers and design-build firms facing labor shortages of skilled trades and general laborers. While the construction labor market is tight in the northeast, we are better off than many other parts of the country, as you can see in this chart: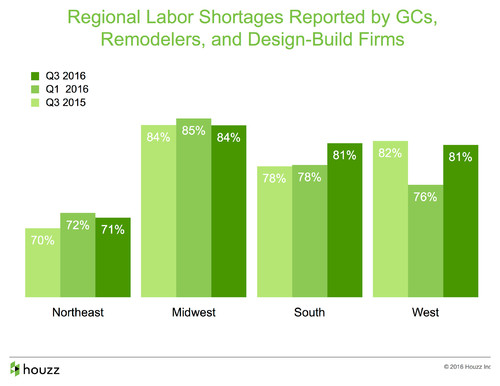 According to a press release issued by Houzz, half of general contractors (GCs), remodelers and design-build firms report that labor shortages are driving increases in costs to hire subcontractors (53 percent), while a third report higher costs due to an increase in compensation for their own employees (37 percent). For clients, these rising costs translate to increased project costs, as reported by 59 percent of professionals. The amount of time it takes to complete a project has also increased for half of firms, although project quality and client satisfaction remain high.
At Morse, we have been fortunate to add staff over the past few months. As we look toward a busy 2017, we are pleased to have a wonderful team in place to keep projects running smoothly and maintain the top-notch quality on which our reputation is built. Like so many renovation firms, we are scheduling quite far in advance. If you are interested in beginning a project in 2017, please contact us now!